Welcome to Yarrabee Dorper Sheep Stud
Situated on the Darling Downs, close to Toowoomba and Brisbane
Yarrabee Dorper Stud is located in the Goombungee district (35 km northwest of Toowoomba) on the Darling Downs, South East Queensland (175 km from Brisbane Airport). Visitors are always welcome to Yarrabee, which is readily accessible from both the Warrego (30 km) and New England Highways (18 km).
The stud prides itself on the natural breeding
of structurally sound sheep
reared under paddock conditions
The Dorper sheep stud (number D781) has been operating since 2011, and comprises a flock of very easy care, productive sheep. If the name Yarrabee seems familiar, the Boer Goat stud has been operating since early 1998, breeding quality Boer goats from a range of genetics.
Dorper Sheep for Sale - Stud Stock and Commercial
The stud usually offers a variety of livestock categories to satisfy all customers. Currently these stock are available:
Dorper Rams – born 2020
Dorper Ewes – born 2020
Stud Dorper breeders and export buyers can purchase quality, registered stud stock, suitable for showing and further stud breeding. Commercial meat sheep producers can select from registered and unregistered fullblood sires, ideal for running in extensive situations with commercial ewes.
Yarrabee Dorper Sheep Sale Details 1st of April at 1pm AEST
Click the link below to view the Auctions Plus Catalogue:
https://auctionsplus.com.au/auctions/sheep/yarrabee-dorper-sheep-stud-dorper-ewe-and-ram-sale/55525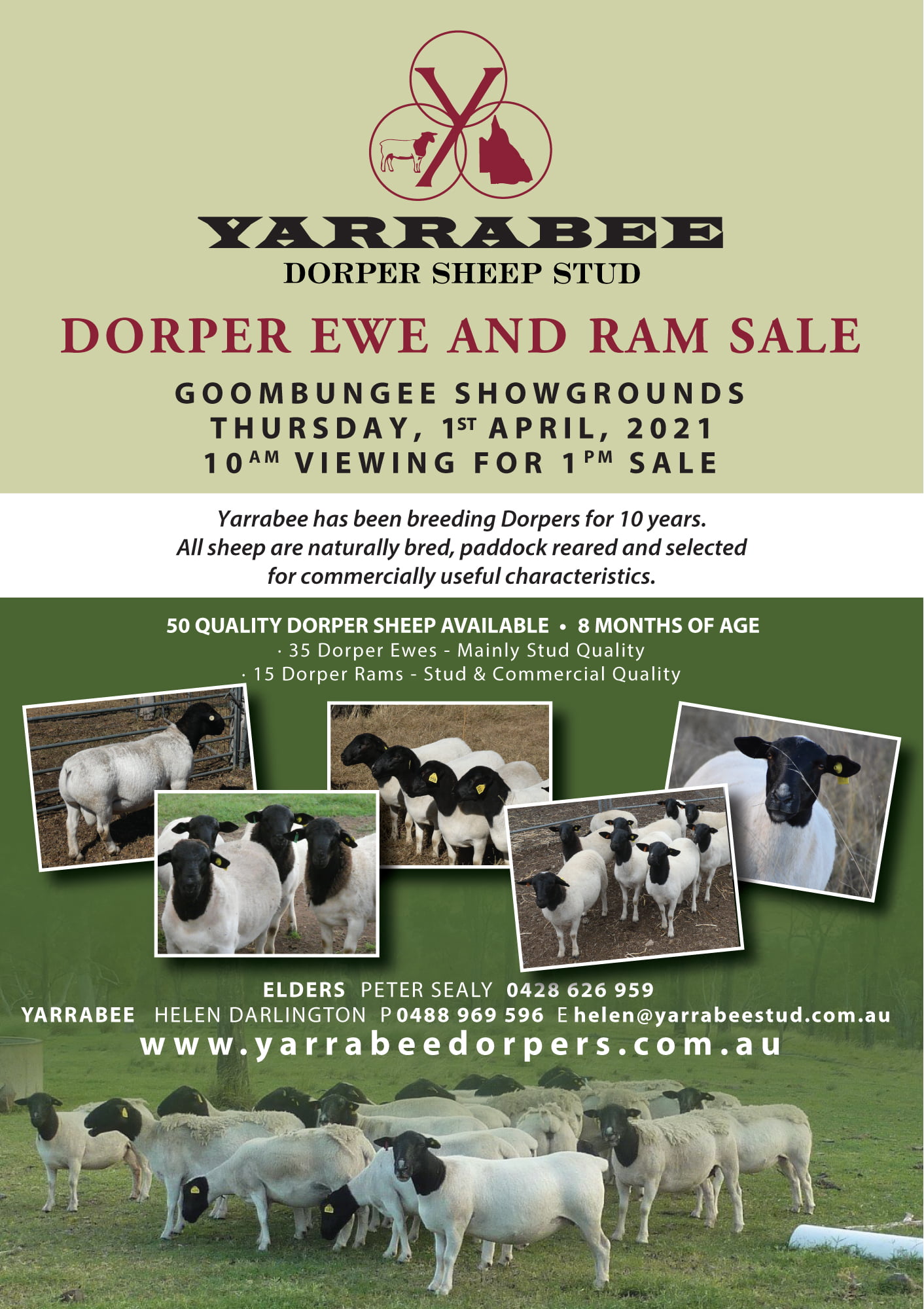 Livestock Management Training - Short Courses
Alongside the production of quality Dorper sheep and Boer goats, the stud offers training opportunities and genuine advice for people interested in sheep and goats. These opportunities include:
Short courses, covering all aspects of successful sheep and goat management (next course 29th and 30th of May 2021 – feel free to phone for more information or check out the yarrabeeboergoats.com website).
Work experience for school and university students.